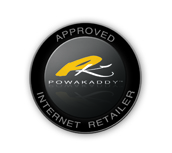 Powakaddy are the World's leading manufacturer of Electric Golf Trolleys and one of the leaders in the Golf Bag market too and they make their electric trolleys here in Great Britain in their factory in Kent. Together with their innovative manual push trolleys and full range of accessories they truly are the choice of Champions.
Powakaddy have an unerring obsession with perfection, close attention to detail, rigorous testing and an unrivalled passion for the game, Powakaddy continue to set the standard in electric golf trolley innovation. Their latest FX3, FX5, FX7 and CT6 Models really have set the standard for the industry. Available with the additional built in GPS rangefinder in the trolley handle or the EBS breaking system for added control, Powakaddy really are setting the standards for electric golf trolleys.
Powakaddy: The choice of champions. As the Official Trolley Supplier to England Golf and The PGA.
Powakaddy Golf at www.golfgeardirect.co.uk, featuring Powakaddy Golf Trolleys, Powakaddy Golf Bags and Powakaddy Golf Accessories. Powakaddy are the worlds largest Electric Golf Trolley brand and have been producing quality Electric and Pull golf trolleys to the golfing market for over 20 years. The Powakaddy Freeway and Classic Electric Golf Trolleys really put Powakaddy on the map and offer the golfer less strain by using one the of these energy saving units. Play better golf and save your energy for your game with a Powakaddy Golf Trolley.

After Sales Policy for Powakaddy Powered Trolleys
Powakaddy are the leading manufacturer of Powered Golf Trolleys and have an established impeccable record concerning reliability and faults with their products. However, due to the highly technical nature of all Powered Golf trolleys it is inevitable that faults may occur due to continual use, wear and tear. Powakaddy have a network of repair agents strategically positioned around the UK authorised to carry out repairs both within the manufacturers warranty period and outside of that timescale. Please telephone on 01622-891675 for information relating to your nearest Authorised Powakaddy Repair Centre.

All Powakaddy trademarks and logos are the intellectual property rights of Powakaddy International Limited

If for any reason we are unable to supply your Powakaddy trolley within the specified delivery time we shall notify you within 24 hours of your purchase.
The manufacturer's warranty covers purchases within the UK & Ireland. Customers outside the UK & Ireland will need to return their item to the UK for repairs & service covered by the manufacturer's warranty.

Visit this manufactures website
For full terms and conditions, click here.
Powakaddy Golf at www.golfgeardirect.co.uk