Galvin Green is the number one technical apparel brand in the golf industry. Galvin Green has developed and designed the highest performing golf wear in its multi-layer concept, giving you ultimate performance and comfort from your baselayer to your outerwear. Concentrating on nothing other than the best interests of a golfer and designed for golfers by golfers. Galvin Green believes in nothing other than ultimate performance, living by its slogan - "We never compromise".
Due to its high level of performance, Galvin Green are now the official supplier for outerwear for the European Ryder Cup Team. Their garments are specially developed to allow a full swing while remaining extremely comfortable.
Galvin Green never compromise, so why should you? Shop the full range now and discover the multi-layer concept behind each department.Prefer a bargain on prior season ranges? Click here to visit the Galvin Green Sale department.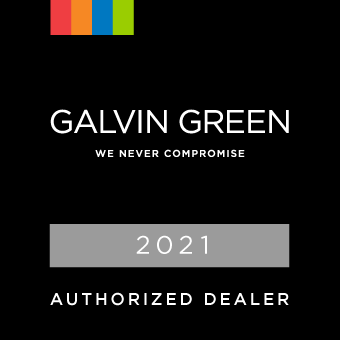 We suggest downloading Galvin Green's specialist 'Dress For The Weather' App to ensure you make the most of your new golf apparel.
Enter your local forecast including; rainfall, windspeed and temperatures to reveal a guide of three compatible garnments which will make your game even more enjoyable.
This cutting-edge technology can be downloaded free from the App Store or on Google Play.
Galvin Green - We Never Compromise - Golf Clothing, Waterproofs and Accessories at www.golfgeardirect.co.uk