Spider Si Delivers Maximum Stability and Control Via High MOI Head and Counterbalance Grip
TaylorMade's engineers and product development team spent more than three years working with Tour pros to dial in the precise head design, weight distribution and club specifications to create a remarkably stable and elegant putting instrument. Spider Si is engineered to give you more stability, forgiveness and control to help get your putts on line and get them to the hole.
The large head is counterbalanced by a 15-inch, 125-gram grip, which increases "stroke stability," which is your ability to swing the head on a smooth and accurate path. Counterbalancing amplifies stability by up to 60% compared a traditionally weighted putter. The putterhead itself is also extremely stable, with an MOI measurement of 6,000+ to help it resist twisting on mis-hits toward the toe and heel. That protects you from losing ball speed, helping you get the ball to your target instead of running out of speed and coming up short. Spider Si also delivers outstanding feel and roll, owing to its PureRoll Surlyn face insert that's designed to promote smooth and consistent roll as the ball leaves the face. And the face is easy to aim with accuracy, thanks to the simple, elegant head design and contrasting crown colors. Spider Si has already been put in play on Tour, as more and more players make the switch to a counterbalanced putter.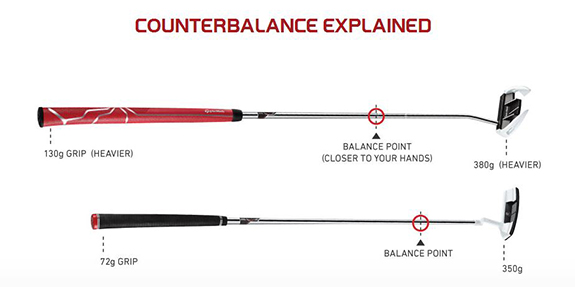 A weight or force that balances or offsets another.Using a heavy grip to counterbalance the weight of the head increases what we call "stroke stability," giving you the benefits of a belly putter without the need to anchor the end of the grip against your body.
STROKE STABILITY
No matter what length putter you favor – standard, mid-length or long – counterbalancing can help you roll the ball more accurately and with keener distance control.
The putter almost feels like it's on autopilot when you swing it, the head swinging smoothly on an accurate swing path, resisting manipulation by the hands and arms.
The 130-gram grip (two times the weight of a traditional grip) acts as a counterbalance to the heavy clubhead.
PUREROLL
PureRoll Surlyn® insert promotes soft-yet solid feel and smooth roll straight off the face.
MOMENT OF INERTIA (MOI)
Spider Si is one of the most stable putters we've ever created. Counterbalancing increases the overall MOI of the entire club while the high MOI head helps protect ball speed on off-center hits. That extreme stability helps square the face to the ball and gives the head great consistency on all putts.