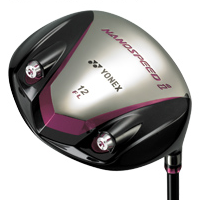 Price Promise

Found a cheaper price?
Yonex Ladies Nanospeed i Driver SALE
Description
Ask a Question



The Nanospeed i Driver is powered by the revolutionary new Yonex Nanospeed 70+ shaft that utilises Dual Nanoscience technologies, Elastic Ti at the kick-point and CupStack Carbon Nanotubes at the shaft tip for explosive swing speeds ensuring greater distances.

The revolutionary CupStack Carbon Nanotubes bind carbon graphite fibres closer together to increase strength and resiliency. Positioned at the shaft tip the added resiliency dramatically improves energy transfer through the shaft in the form of increased impact speed.

The Elastic Ti positioned at the kick-point of the shaft further accelerates head speeds by forcing the shaft to 'snap back' to its original position forcing the club head through the ball at greater speeds.

To maximise the explosive head speeds generated by the Nanospeed 70+ shaft the Yonex R&D department have developed an Aero-Pentagon Shaped head to ensure explosive drives are realised. The Aero-pentagon shape reduces air resistance maintaining faster impact speeds and ensuring valuable stability through the ball strike for longer straighter drives.

The weight saving Carbon graphite crown allows vital weight to be re-positioned further and deeper within the head for the optimum centre of gravity, ensuring the perfect launch angle for maximum distance off the tee.

Features:

-Tunsten Balanced Head Construction.

-High Tensile Carbon.

-Graphite Crown with the Matrix C60.

-6Al-4V Titanium Precision Casting (Muscle Power Face II).

-Tungsten insert.

-High-modulus.

-Nanospeed 70 with CFS.
Our Customers Love Us