Want it Tuesday, 20th Apr?
Order within

-:-

and choose next-day delivery (excludes all custom fit products)
Please select all available options
Price Promise

Found a cheaper price?
0% Finance Now Available Over 3-12 Months!
Minimum basket value: £250

0% Finance Options - Loan Calculator
x
Finance is subject to status. Terms and conditions apply.
Purchase the Skycaddie SX500 Handheld GPS Rangefinder and receive a FREE Leatherette Holster!
Skycaddie SX500 Leatherette Holster
Skycaddie SX500 Handheld GPS Rangefinder
Description
Ask a Question
THE SKYCADDIE SX500 - STUNNING HD GRAPHICS WITH DISTANCES YOU CAN TRUST
Golf's best-ever GPS display: Stunningly detailed hole graphics on a brilliant full HD 5" glove-friendly touch screen.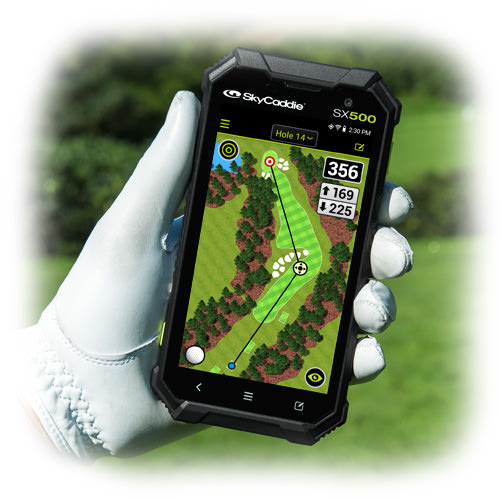 PinPoint Technology With pin sheet or zone information, PinPoint provides the ability to get distances to today's pins and zones on IntelliGreen without the need for line-of sight, thereby obsoleting laser rangefinders. See everything, miss nothing Accurate, up to date yardages to everywhere on the hole – not just Front-Middle-Back.
Pre-loaded with over 35,000 ground-verified course maps, exclusive to SkyCaddie. We map and update courses on foot using professional surveying equipment.
WiFi for Instant Course Updates Built-in WiFi enables you to download the latest, updated SkyCaddie map for today's golf course. No need to plug into a computer. Rugged, weatherproof, powerful SX500 conquers bad weather. Instant accuracy in all conditions. Highly water-resistant. Extended battery life gives 36 holes minimum.
The Best View in Golf
Golf's largest, highest resolution touch screen. Amazing hole graphics. Instant data at a glance. SkyCaddie SX500 blows away the competition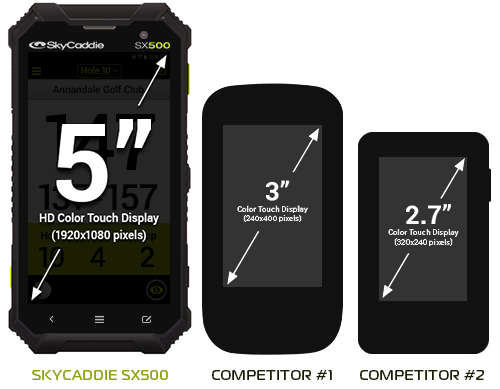 OTHER FEATURES INCLUDE:
NEW Dynamic HoleVue with Integrated Targets
NEW Dynamic RangeVue with Club Targets GPS fl exibility means line-of-sight not needed
Patented IntelliGreen® Pro showing major Contours,
Tiers and False Fronts Movable Cursor gives Flexible Distance Measurement to any point on hole
Ultra-Big Number Mode
Shot Distance Measurement
Auto Course
Auto Hole
AutoView Rotation
Digital Scoring
Stat Tracking and more
HARDWARE FEATURES
Wi-Fi 802.11 b/g/n
Multi-constellation navigation satellite capability
13 MegaPixel Camera (save images to your SkyGolf 360 account)
TECHNICAL SPECIFICATIONS
Size: 6 "x 3" x .5" inch (155.5 x 83 x 12.7 mm)
Weight: Approximately 8 ounces (250 grams)
Display: 5" LCD Touch screen, 1920x1080 resolution • Battery: Up to 14 hours
Water resistance: IPX 7
Languages: English
*NEW* PINPOINT TECHNOLOGY
Exclusive to SkyCaddie SX500, PinPoint provides the ability to get distances to today's pin on IntelliGreen to obsolete laser rangefinders. Use Wi-Fi to Sync web-loaded pin positions and zones if available, or manually enter pin sheet information to get Distance To Hole, plus Front – Middle – Back, plus the Depth and True Shape of the green relative to your line of play – whether you can see the fl ag or not. Try doing that with a laser! For strategic shot-planning drag your SX500 cursor to anywhere on the green for an accurate landing area distance. SX500's screen rotates automatically to match your angle of approach, and the distance information refl ects your current position with no need for line-of-sight. SkyCaddie SX500 means more information, more speed, more accuracy and no aiming
*NEW* DYNAMIC HOLEVUE WITH INTEGRATED TARGETS SX500
And now, the powerful processor of the SX500 allows SkyCaddie® to introduce Dynamic HoleVue™, which displays detailed fairway AND green data, both dynamically auto-rotate according to your current position. Accurate distances to up to 40 ground-mapped targets per hole. Pinch-zoom or double-tap to reveal critical distances to hazards, carries, layups and fairway runouts – all verifi ed and updated regularly on foot by your SkyCaddie mapping team.
Golfers can now see the entire hole from their point-of-view... only from SkyCaddie!
PATENTED INTELLIGREEN® PRO TECHNOLOGY
SkyCaddie's patented Intelligreen® technology comes to life like never before on SX500's crystalclear screen. The exact green shape rotates according to your angle of attack. See accurate distances to all points on the green from where your ball lies – including front carry and back edge over the pin, major tiers, mounds and false fronts. SX500 gives golf's most comprehensive look at a distant green from anywhere on the hole: line-of-sight not needed!
RUGGED & WATER-RESISTANT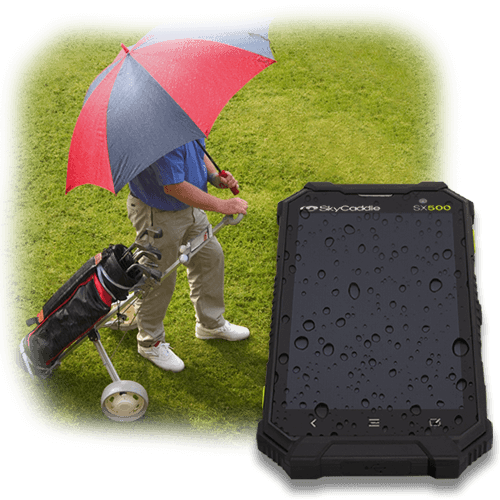 The SkyCaddie® SX500 comes in a highly water-resistant, rugged design to stand up to most anything that comes its way on the course. With the largest battery in the industry, the SX500 is ready for extended playing time for that emergency 9, or even 18 more holes. Using multi-constellation navigation satellite systems, the SX500 provides enhanced accuracy and overall better performance under tough conditions or tree cover.
*NEW* DYNAMIC RANGEVUE WITH CLUB TARGETS
Enter your normal club hitting distances into SX500's new Dynamic RangeVue feature. In play, dynamic yardage arcs are overlaid onscreen showing you which club you should hit to fairways, greens and other strategic points. A true confi dence-builder which leads to improved shotmaking and lower scores. This feature is non-conforming and only for use in practice rounds or casual golf.
A STUNNING VISUAL EXPERIENCE
The powerful features of the SkyCaddie® SX500 are easily tapped with its large 5", intuitive touch screen and a host of automated features such as Auto-Course Selection, Auto-Hole Advance and Auto-Zoom, making it basically "touch-free" from the parking lot to the 19th hole. The large HD display combined with HD quality course graphics, only available from SkyCaddie, provide the best view of the most-reliable information in the game to allow you to play your best golf.
Our Customers Love Us