Want it Saturday, 25th Jan?
Order within

-:-

and choose Saturday delivery (£9.99) (excludes all custom fit products)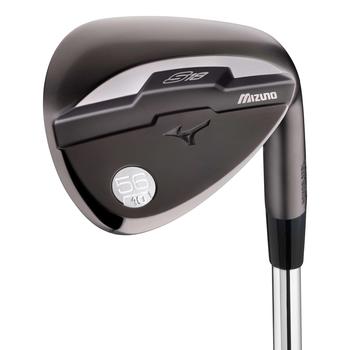 enlarge
Please select all available options
Price Promise

Found a cheaper price?
0% Finance Now Available Over 3-12 Months!
Minimum basket value: £250

0% Finance Options - Loan Calculator
x
Finance is subject to status. Terms and conditions apply.
Buy with Mizuno S18 Gun Metal Wedge and save an Extra 10% OFF a second or third wedge.
Mizuno S18 Gun Metal Wedge
Mizuno T-20 Men's Wedges Steel - Satin Chrome
Mizuno T-20 Men's Wedges - Blue IP
Mizuno S18 Gun Metal Wedge
Description
Ask a Question
FREE PERSONALISATION WITH EVERY WEDGE
The Mizuno S18 Gun Metal Finish Wedge is a brilliantly refined follow-up to the much celebrated S5 wedge, and it boasts some clever design elements that experienced players will appreciate. The S18 can be easily opened up (without impacting alignment) for flop and bunker shots, thanks to a similar rounded shape as its predecessor. A visibly thicker top line shows the progressively higher weight in the lofted wedges – weight is shifted strategically to provide loft-specific CG positions in each wedge. As is common in the higher lofts, strikes are higher up the face, and this feature promotes more consistent spin rates.
A unique, 'Loft Specific Design' appears in each individual wedge, providing different sole grinds, profiles and groove depths specifically engineered for the selected approach. Narrower, deeper Quad Cut Grooves appear in the stronger lofts (used for full shots) to maximise trajectory control, while the higher lofts see shallower and wider grooves for maximising spin.
Add FREE custom stamping and create a unique product which is personal to you. Include up to 6 characters in a choice of 12 paint infill colours and play like the Tour Pros.
Notable Design Features
Improved feel and feedback
Lower lofts feature a relatively straighter face
To allow moisture and dirt to be channelled away, the 54- to 62-degree heads feature deeper and wider Quad Cut Grooves than the lower lofts
In contrast to the S5, the Mizuno S18 Wedges have a narrower channel (lower down the rear of the head)
Slightly more heel and toe grind than its predecessor
Excellent premium wedge choice for single-figure handicappers
'Loft Specific Design' allows specific, intended uses of each wedge to be unique and more effective
Face makes better contact with the ball thanks to the advanced grooves
Variable centre of gravity heights (positioned directly behind the impact point)
Grain Flow Forging
As with the S5, the S18 is Grain Flow Forged from a single billet of 1025 steel, allowing a longer lifespan while keeping the forged feel. Most companies cast their wedges, to prolong groove life, due to the typically harsh conditions (playing out of tough materials, such as sand) that wedges endure. One of the few manufacturers to forge their wedges, Mizuno chooses this approach because of their superior GFF technique.
Enhanced by infusing Boron
Consistent spin rates
Soft feel and feedback
Longer groove life
Order the Mizuno S18 Wedge – Gun Metal from Golfgeardirect.co.uk, the internet's trusted source for over 25 years. We also offer the new Mizuno MP-18 irons at an incredible price with guaranteed fast delivery.
Our Customers Love Us