Want it tomorrow?
Order within

-:-

and choose next-day delivery (excludes all custom fit products)
Please select all available options
Price Promise

Found a cheaper price?
0% Finance Now Available Over 3-12 Months!
Minimum basket value: £250

0% Finance Options - Loan Calculator
x
Finance is subject to status. Terms and conditions apply.
Save 20% Off a second and third wedge with this product.
Callaway Jaws MD5 Golf Wedge - Chrome
Callaway Jaws MD5 Golf Wedge - Tour Grey
Callaway Mack Daddy PM Grind 19 Wedges - Tour Grey
Callaway Mack Daddy PM Grind 19 Wedges - Chrome
Callaway Mack Daddy Forged Wedges - Satin Chrome
Callaway Sure Out 2 Wedge
Callaway Mack Daddy PM Grind 19 Wedges - Chrome
Description
Specification
Tech Info
Videos
Ask a Question
Callaway Mack Daddy PM Grind 19 Wedges - Chrome
Callaway's original PM Grind was a one-o prototype designed by Roger Cleveland with major input from Phil Mickelson.

The idea was to create a wedge to help Phil better hit the high, soft-landing op shots for which he's famous. The club was characterized by a uniquely shaped head with an exceptionally high toe and expansive face area, including grooves spanning the entire face, both from side-to-side and up-and-down.
Phil loved the prototype and put it straight into play, at the 2014 PGA Championship, and nearly won. That validation led Callaway to introduce it to the public in 2015; it quickly gained an avid and loyal following among golfers who found it exceptionally easy to use from greenside bunkers, in addition to helping with op shots.
After three years of working with Phil, the result is the new Callaway PM Grind 2019. Featuring four key improvements:
"O set" Groove-in-Groove technology
Increased "O set"
Higher toe design
new C-grind sole configuration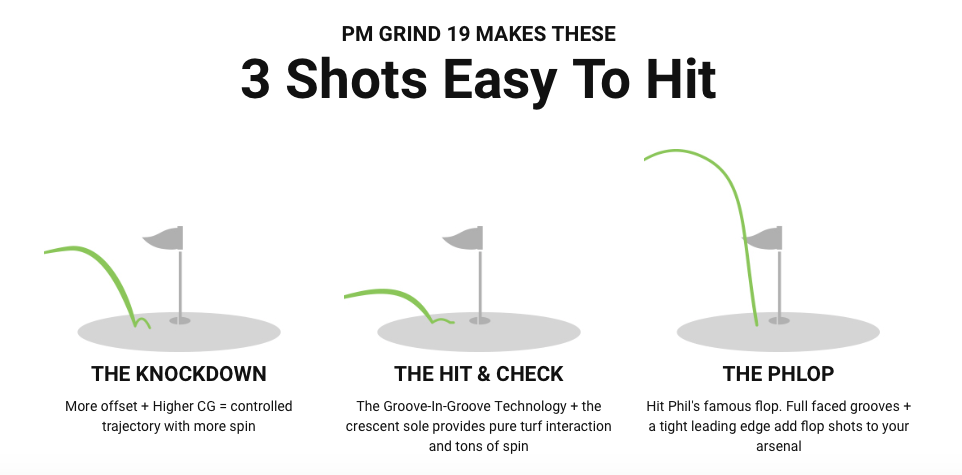 OFFSET GROOVE-IN-GROOVE TECHNOLOGY
This technology helps promote more spin and control on op shots. Here's how it works. Callaway's Groove-in-Groove technology was introduced last year in our MD4 wedge, helps you control the trajectory and spin of all shots.
It entails four micro-positive ridges machined into the at parts of the face, between the grooves, creating 84 contact-points of contact with the ball. Callaway research shows that players typically open the face 14 to 20 degrees on op shots. With that in mind, the PM Grind 2019 features micro-grooves machined into the face at a 20-degree angle, making them perpendicular to the target line when the face is open. According to Callaway player testing, this adjustment creates up to 500-600 RPM more spin on lob and pitch shots.
INCREASED OFFSET
"Offset" in a clubhead is the distance between the front edge of the hosel and the leading edge of the clubface. Increasing the amount of offset in the PM Grind 2019 makes it easier to move the ball back in your stance and position your hands ahead of the ball, which is necessary to hit a knockdown, which flights lower yet spins more.
When executed correctly the ball takes a low forward skip upon landing and stops fast. Phil, who had his original PM Grind bent specifically to create more o set to help him hit knockdowns, was a strong advocate for more o set in the new PM Grind 2019.
HIGHER TOE
Another change that makes it easier to execute lob shots, especially from tall grass, is a higher toe. Extending the height of the PM Grind 2019's toe raises the mass and create more mass and space to make contact with on op shots, making these shots easier to hit. The higher toe is made possible by removing weight from the sole (represented by the four holes in the sole, each filled with a green aluminium medallion), pulling the CG location upward.
The advantages of these changes are especially felt on lob shots from greenside rough. With a typical wedge, the tendency is to make contact high on the face, resulting in a dead feeling at impact and the ball going a fraction of the intended distance. PM Grind 19's higher toe helps prevent that by adding mass high on the face, where you need it.
C-GRIND SOLE
Phil loves tinkering with wedges, including sole configuration. He suggested moving away from the PM Grind's U-grind sole and giving the PM Grind 2019 a modified C-grind, with a tighter heel-toe radius. This, according to Roger, relieves significant mass in the heel area, allowing the leading edge to get under the ball more easily when you open the face, making it easier to play a wider variety of greenside shots – including the op – from a wide variety of lies.
For Roger, PM Grind wedges are proof that revolutionary shapes and technologies are possible even after decades of designing equipment.
"Working with Phil on the PM grind wedges has been an incredible experience," he said. "His insights are always spot-on, and implementing them to create something innovative like the PM Grind 2019 is very satisfying. This wedge is going to help a lot of players hit shots they couldn't hit before, with confidence."
Purchase the Callaway Mack Daddy PM Grind 19 Wedges - Chrome at Golfgeardirect.co.uk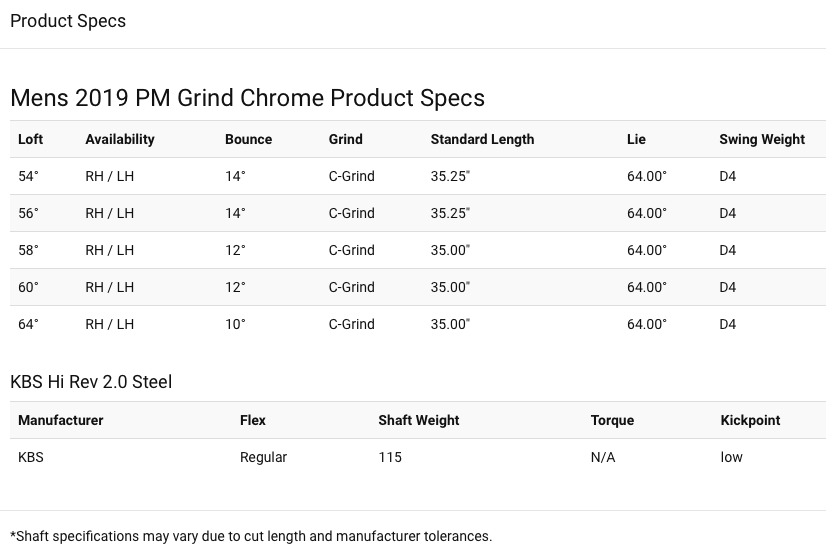 Offset Groove-in-Groove Technology
High Spin Lob & Pitch Shots. Positioning the micro-grooves on a 20º angle in relation to the standard grooves promotes added spin on chips, pitches and lobs.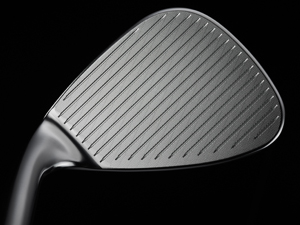 Increased Offset & Higher Toe
Crisper, Flag-finding Knockdown Shots. Increased offset and higher center of gravity from the higher toe together help players control trajectory on full and partial shots.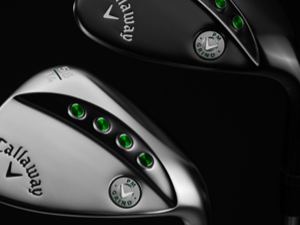 C-Grind Sole Configuration
Crisp Contact from a Broad Range of Lies. Generous relief at the heel and toe promote crisp, clean contact from a variety of greenside lies.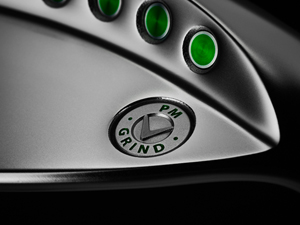 Premium Components and Finishes
KBS Hi-Rev 2.0 steel wedge shaft, Lamkin UTX grip and choice of Platinum Chrome or Tour Grey finish.
Our Customers Love Us