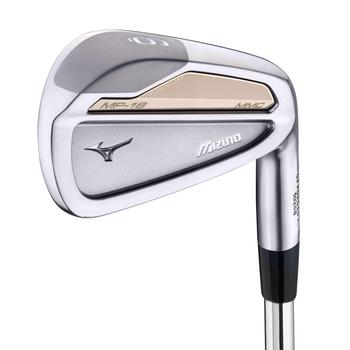 enlarge
Please select all available options
Price Promise

Found a cheaper price?
Buy these Mizuno MP-18 MMC Irons and get 50% Off a Mizuno Fli-Hi or CLK Hybrid
Mizuno MP-18 MMC Fli-Hi Irons
Mizuno MP-18 MMC Irons
Description
Ask a Question
Mizuno MP-18 MMC, Multi-Metal Cavity
Returning to the core principles and design techniques that made them famous, Mizuno heavily leveraged the expertise of its master craftsmen to forge these irons into a superior shape, which was then scanned into the computer to incorporate modern production processes. Experienced players will find the precision craftsmanship of the Mizuno MP-18 MMC to be irresistible.
The influence of years of work with major winners, such as Nick Faldo, is immediately evident upon first examination of the clubs. Built with blending in mind, the manufacturer has designed the offsets and lofts to be adjustable to match practically any set configuration within the range.
By moving additional weight to the sole's perimeter, the advanced, multi-material construction of the club will prove useful to 5 and below handicap players who want the accuracy of the MP-18 SC, but in a notably more forgiving variant. Feedback is crisp and precise, thanks to the evolved GFF HD (Grain Flow Forged HD) process Mizuno is best known for, creating a tighter concentration of grain within the billets.
The design of the Mizuno MP-18 MMC Iron is a nod to players who seek the latest in club technology. While maintaining a 'tour ready' profile that is similar to the MP-18 SC, the MMC from Mizuno offers golfers maximum playability and forgiveness by means of lightweight titanium (8g) and heavier tungsten components positioned strategically.
Notable Features of the Mizuno MP-18 MMC Iron:
Multi-material construction
8 grams of titanium in the head
Aesthetically pleasing
Boring trajectory
Available in 4-PW
Nippon Modus 120 steel shafts standard
Increased resistance to twisting during off-centre hits
Forgiveness, greater MOI, and increased launch angles
4-7 irons feature 20-gram toe weight (moving CG towards the toe)
Short irons feature a dual-metal design (without tungsten weight)
Longer carry distances and lower spin
Same sole width as the MP-18 SC (slightly larger blade)
1025E mild carbon steel clubhead
More centralised sweetspot
Order Mizuno MP-18 MMC Irons today at Golfgeardirect.co.uk for the best prices and quickest delivery available.
Our Customers Love Us