Price Promise

Found a cheaper price?
0% Finance Now Available Over 3-12 Months!
Minimum basket value: £250

0% Finance Options - Loan Calculator
x
Finance is subject to status. Terms and conditions apply.
Purchase the SkyCaddie SX400 Handheld Golf GPS Rangefinder and receive a FREE Silicone Protector Holster!
SkyCaddie SX400 Handheld Silicone Skin Protector
SkyCaddie SX400 Handheld Golf GPS Rangefinder
Description
Videos
Ask a Question
Skycaddie SX400 Handheld Golf GPS Rangefinder
Get the same power, all in a compact size.
The Skycaddie SX400 has a easy to use 4" touch screen that is highly responsive, displaying an excellent picture of the golf course. Its sleek and compact design makes this the perfect device to slip into your pocket. It is a durable and rugged device, as well as being highly water-resistant.
Golf's most brilliant display.
The SX400 4" touch screen is powered by an ultra-fast multi-core processor that provides the most powerful way to measure yardage, whilst providing vivid graphics and accurate numbers you can trust.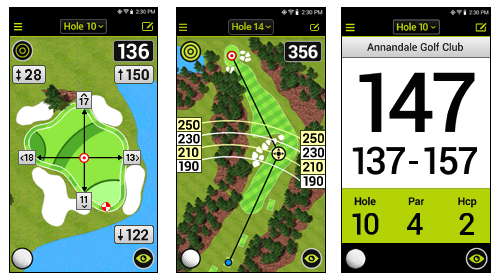 Highly water-resistant.
The SX400 also features a large battery that allows for extended playing time, allowing you to extend your game! It also used multi-constellation navigation satellite systems, the SX400 provides enhanced accuracy and better performance under tree cover or tough conditions.
A stunning visual appearance.
The SkyCaddie SX400 has powerful features such as Auto-Course Selection, Auto-Hole Advance and Auto-Zoom, enabling this to become basically "touch tree" from parking to the 19th hole, all within a 4" HD screen.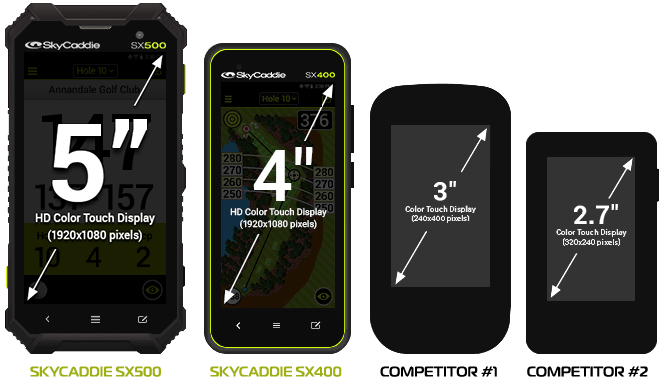 Intelligreen technology
The exact shape of the green automatically rotates to match the angle of your approach, providing all of the distances you need to hit more greens and avoid 3-putts. This enables you to have more chance to turn every shot into a scoring opportunity by providing front carry and back distances, depth of green and distances to any other point on the green.
Dynamic HoleVue with integrated targets
Like the SkyCaddie SX500, the SX400's powerful processor drives the new Dynamic HoleVue™. This automatically re-orients the entire golf hole from your position to the green and you progress from the green. Combined with SkyCaddie's IntelliGreen®, golfers can now see the entire hole from their point-of-view.
Other GPS products may provide a few calculated layup yardages, the SX400 provides distances to up to 40 geo-referenced targets per hole, all integrated within HoleVue. All this requires is simply double-tapping or pinch and zoom HoleVue to discover the critical distances to all hazards, carries and layups.
Dynamic HoleVue with Intellipath Technology
Use the cursor on the device to select your intended target and line of play and Intellipath not only provides the distance to your intended target, also also automatically provides the distance to every other relevant attribute of course along and beyond your target line.
Dynamic RangeVue
Get multiple yardage arcs overlay fairway landing areas and greens to allow you to quickly select the best club for every shot.
Dynamic RangeVue with club ranges
The SX400 allows you to quickly learn how far you hit each club. You can customise RangeVue by entering your club yardages. As you play, you will see your club range next to the RangeVue ring on every part of the course for much improved shot-making to fairways, layups and greens.
Intelligreen Pro
This is the dynamically-enhanced version of IntelliGreen that adds the ability to display major tiers, contours, false fronts and mounds from your angle of approach to the green on selective courses. By moving IntelliGreen crosshairs to the ridge lines on the image of the green, you will be able to find instant distances and depth information for major tiers and false fronts. In conformance with USGA regulations, SkyCaddie does not factor slopes or gradients into distance calculations.
SkyCaddie Pinpoint Technology
This provides the ability to get distances to the pin on IntelliGreen to obsolete laser rangefinders. Just simply enter pin sheet or zone information to get distances to the front, back pin location or zone PLUS the depth and true shape green. This information on the screen changes automatically based on your current position and angle and approach from anywhere on the course.
Digital scoring
You will get scoring options for Stroke and Stableford with handicapping and tracks total putts and fairways hit. Turn the SX400 left or right to view the full 9-hole Digital Scorecard instantly in landscape mode.
Ground-verified course map
There are 35,000 ground-verified, error-corrected courses without any shortcuts taken. SkyCaddie walks each course to record thousands of points with sub-meter precision.
Other features:
On Demand download for latest course updates via WIFI

Measure the distance you hit any shot and learn your club distances

North Indicator

Tee Box Selection & Gender

Dual Green Support

Yards & Meters

Target List View

Simple Front Center Back View with ultra-large numbers

Digital Scorecard

Stat Tracking
Technical specifications:
Size: 5" x 2.4" x 0.7" inch (127 mm x 60.96 x 17.78 mm)

Weight: Approximately 6.6 ounces (200 grams)

Display: 4" LCD touch screen, 540 x 1080 resolution

Battery: Hi-capacity rechargeable Li-Polymer battery. 12-14 hours continuous use.

Water resistant

Languages: English
Hardware features:
Rugged design

4" LCD high-definition, capacitive touch screen

Wi-Fi 802.11 b/g/n

Hi-capacity rechargeable Li-Polymer battery 12-14 hours continuous use

Multi-constellation navigation satellite capability
Package includes:
SkyCaddie® SX400 GPS Rangefinder

SX400 micro USB-C cable

Wall charger

Quick Start Guide

Warranty and License Agreement
Our Customers Love Us