Price Promise

Found a cheaper price?

Next Day Delivery

Order by 2pm (Mon - Fri)
Adidas Eyewear - Raylor Sunglasses
Description
Ask a Question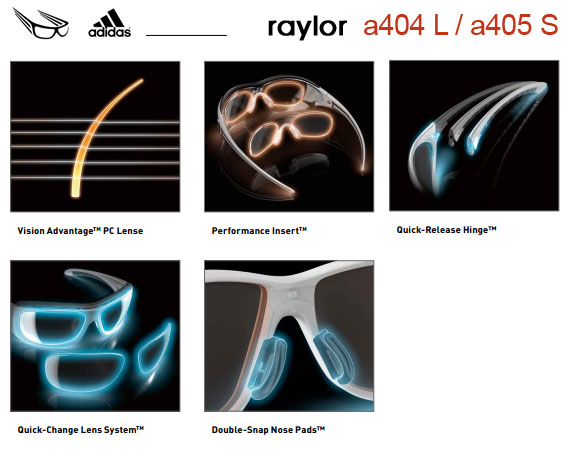 Compromising on nothing there's 4 reasons that make the adidas eyewear range not just a sport accessory but a true performance product; the Vision, Fit, Protection and Durability concepts.
8-base decentered Vision Advantage™
PC Lens Precise lens decentralization guarantees distortion free sight in all lighting and weather conditions.
Double-Snap Nose Pads™
For perfect fitting and protection / extended nose version available.
SPX™/Flex Zones™
SPX™ is an extra-light, breakproof material. Flex Zones™ provide an extremely comfortable fit.
Vision Advantage PC Lens™
The lightweight Polycarbonate lenses provide 100% UV protection, have strong resistance to impact forces and are of an optical quality 1 level.
Quick-Change Lens System™
Simple, fast but sturdy lens changing feature enabling wearer to adapt eyewear to all lighting and weather conditions.
Quick-Release Hinge™
This patented release mechanism for the temple hinges free the frame from possible strain or breakage. Temples easily reinserted.
Our Customers Love Us