Want it tomorrow?
Order within

-:-

and choose next-day delivery (excludes all custom fit products)
Please select all available options
Price Promise

Found a cheaper price?
0% Finance Now Available Over 3-12 Months!
Minimum basket value: £300

0% Finance Options - Loan Calculator
x
Finance is subject to status. Terms and conditions apply.
SkyCaddie Linx GT Golf GPS Tour Edition Rangefinder Watch
Description
Ask a Question
SkyCaddie GT Golf GPS Tour Edition Rangefinder Watch
ALL-IN-ONE-ADVANCED WATCH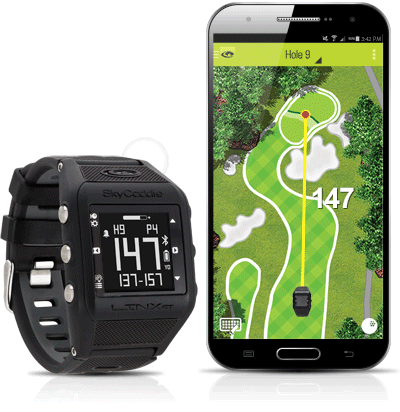 Hands-free play with Intelligent Automation
Auto Shot Tracking records every shot's location & distance
Built-in SmartTag™ reader for hassle-free club tracking
Uses Bluetooth® wireless for connectivity with SkyCaddie Mobile
TOUR EDITION - What's Included?
SkyCaddie LINX GT GPS watch
1 Sample SmartTag™
SkyCaddie Mobile Premium app*
1-Year SkyGolf 360 membership plan
Charging cable and user documentation
THE SKYCADDIE LINX GT IS GOLF'S MOST POWERFUL RANGEFINDER WATCH... AND MUCH MORE!
The SkyCaddie® LINX GT comes packed with best-in-class preloaded courses and powerful, yet easy-to-use features to save strokes and improve your game. Unlike other golf watches, get distances you can trust to every part of the green AND every hazard on the course. Automatically track your shots from tee to green without tagging or distractions from the game you love. Allow friends to follow your round in real-time using the SkyGolf® 360 Cloud service. Use SkyCaddie® Mobile, a synchronised companion app, to get vivid HD views of the entire golf hole when you need more information to save you strokes. The SkyCaddie LINX GT is even SmartTag-Ready, making it the best and easiest-to-use game tracker on the market!
In one streamlined featherlight design, you have the best rangefinder watch, the best game tracker, the best Cloud service for post-round analysis, and the best app when more is needed during or after play.
THE SIMPLICITY OF A GOLF GPS WATCH WITH THE EXPANDED VIEWS OF A MOBILE APP
At its core, the SkyCaddie® LINX GT is a standalone GPS watch that features SkyGolf's best-in-class TrueGround® Course Maps to provide golfers with distances they can trust. But it is so much more than that!
While the LINX GT offers the convenience and simplicity of reliable distances on the watch, sometimes you need more information about what lies ahead. For those cases, the SkyCaddie LINX GT uses Bluetooth® connectivity to instantly show an expanded view of the entire hole in vivid HD on your mobile phone using our synchronised companion app, SkyCaddie Mobile.
Pair once and the LINX GT watch stays in sync with the SkyCaddie Mobile app during play, delivering the convenience of a GPS watch, the vivid landscapes offered with the SkyCaddie Mobile GPS app and the unmatched accuracy of a SkyCaddie. You'll instantly have quick distances on your wrist and expanded views in the palm of your hand that work together in perfect harmony.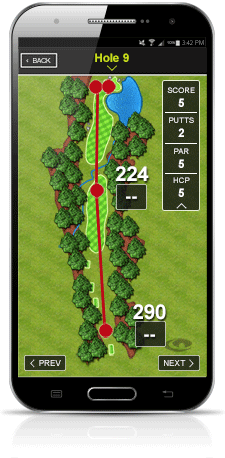 INCREASE ACCURACY UP TO 300%
SkyCaddie's powerful TruePoint® GPS engine in the watch replaces your smartphone's location services to provide distances you can trust... and conserves your smartphone's battery, too! While other golf GPS apps drain your battery and rely solely on the smartphone's location services that cannot provide the distance consistency that your game deserves, the LINX GT delivers distances you can trust, both on your wrist and on your phone. Nothing else comes close!
WIRELESS SYNCHRONISATION
The watch and the app stay perfectly synchronised to keep both on the same course, the same hole and the same location from tee to green. Both will automatically advance around the course as you do with Intelligent Automation.
AUTO-SHOT TRACKING
The SkyCaddie LINX GT is the first rangefinder that includes an automatic shot tracking system running in the background while you focus on your game. With Intelligent Automation, tracking the location and distance of each shot is a simple and hands-free experience. Just PLAY and HAVE FUN during your round. At the end of the round, open the SkyCaddie Mobile app to upload your shots to the SkyGolf 360 Cloud. Once in the Cloud, all of your shot and scoring data is available for review and editing at www.skygolf360.com or via the convenient SkyGolf 360 mobile app.
Using Bluetooth® wireless, the LINX GT watch connects with the SkyCaddie Mobile app so you can view the results overlaid on vivid HD course maps in real-time! Only an Internet connection is required for real time viewing and access. If the Internet is inaccessible where you play, your shot data will be stored on the SkyCaddie LINX GT until you have Internet access for transfer via the SkyCaddie Mobile app.
SIMPLE ONE-TOUCH EDITING SYSTEM
The SkyCaddie LINX GT wirelessly uploads your round data to your personal "My 360" account in the SkyGolf 360 Cloud.
As it is being uploaded, the Cloud optimizes the data from your SkyCaddie so you can review and store it with minimal editing.
However, while the SkyCaddie LINX GT's Auto-Shot Tracking feature will capture 90% of your round data in the background automatically, you may still want to edit shots or add club information.
SkyCaddie's simple One-Touch Editing system makes this extremely easy, taking only a few minutes to do.
SMARTTAG READY
The SkyCaddie LINX GT watch is the first golf watch on the market that can read SmartTags. SmartTags® can be added to each of your clubs. Each watch comes with a sample tag that you may want to add to your driver to track your accuracy and distances. By adding the optional tags to other clubs, you can get the results for each club to improve your game. Tagging after each shot is a personal preference, so we offer both a tagging solution and non-tagging solution using Auto-Shot Tracking. Auto-Shot Tracking captures the distance and location of each shot and our simple one-touch editing tool allows you to add the club used later in just couple of minutes in the 19th hole or at home. Many golfers will prefer to use the tags during a round, but may forget to tag a shot occasionally.
With other systems, forgetting to tag will cause shots to be missed or require a complicated process to add missed shots. With the SkyCaddie LINX GT, you may still forget to tag, but our Auto-Shot Tracking will still be working in the background to capture the locations and distance of the shot, so all you have to do is tap on the shot in the SkyGolf 360 app to add the club that you used. Simple and quick "One-Touch" editing tools make game tracking easy and our options make it happen your way. Nothing else comes close!
You can download an additonal game tracking software for £50 that you can purchase within the watch!
Preloaded with over 35,000 basic green course maps (front, center and back of greens)
Lightest and most compact golf GPS rangefinder on the market
Sunlight-readable display with large, easy-to-read numbers and icons
Low-energy Bluetooth technology for wireless synchronization with the SkyCaddie Mobile app
Powered by SkyGolf's TrueGround® Course Maps, the most complete and accurate maps in golf
Intelligent Automation — such as Auto-Course Select, Auto-Hole Advance and Auto-Distance — allows for virtually hands-free play
Measure shot distance
Digital scoring and stat tracking
Odometer tracks your distance, pace, and speed for any sport
SkyGolf 360-Ready: Track and share scores, stats and more in the SkyGolf 360 Cloud
Smartphone notifications show incoming calls, voicemails, texts, and email messages (iOS only)
Customise display with reverse polarity and a choice of analogue or digital time displays
Our Customers Love Us